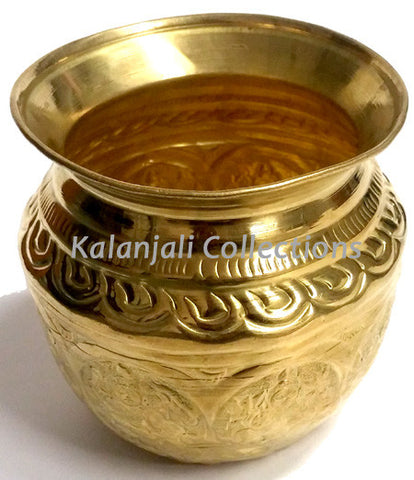 Ashta Lakshmi Brass Lota for Kuchipudi Dance, Pooja
| | |
| --- | --- |
| Size: | Size 4 inch, lota No.8, weight: 4 oz to 5 oz |
| Description: | Ashta lakshmi brass lota for Kuchipudi dance or pooja |
| Material: | Brass |
| SKU: | BLOTA-AL2 |
Performing dance while standing on the edges of a brass plate, also balancing a lota (jug) of water on head is considered to be the highest level of mastery. These lotas also can be used for poojas.
These plain brass plate sizes range from 12 inch to 16 inch in diameter and lota height 4 inch. For safety reasons this product is strictly intended for only well trained dancer's use.
NO LIABILITY OR RESPONSIBILITY is accepted by Kalanjali Collections or its affiliates for any injury, damage, accident arising from using this product or any other products on this website.
---
We Also Recommend